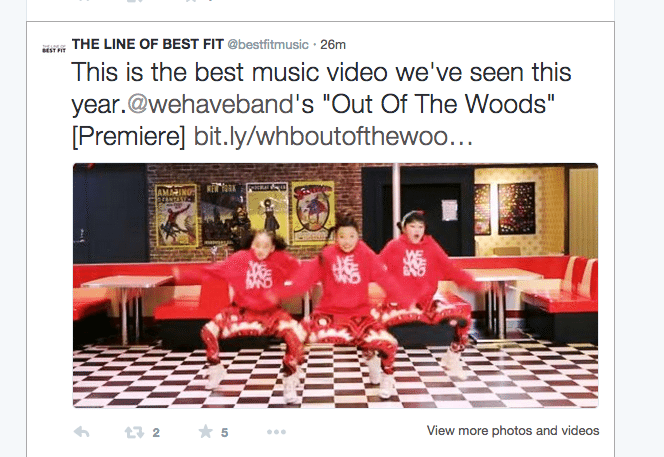 We Have Band, drop latest music video to their single 'Out The Woods' today, with The Line Of Best Fit.
Deemed 'Viral-ready' on todays premiere, this video is one of an addictive nature and sure to have you watching over and over.
Words from the band:
"We stumbled across a YouTube clip of a dance troupe called TOMATO from Chibua, Japan and wanted to work with them to create a dance video for the new single. After weeks of challenging cross continental, cross linguistic, 'google translate' correspondence that resulted in the 3 girls being filmed many times, by their manager, performing the routine they had choreographed, a friends edit later of the fairground / diner / fantasy land / mountain top footage and the result is: WHB v TOMATO – OUT THE WOODS!"
'Out The Woods' is taken from the bands forthcoming 'The Woods EP', which is out soon.
Pre-order the EP on iTunes and get instant download of the single HERE
Listen on Spotify HERE
TOUR DATES:
20.05.15 – Private Club, BERLIN (GERMANY)
21.05.15 – Beatpol, DRESDEN (GERMANY)
22.05.15 – Open Ohr, MAINZ (GERMANY)
23.05.15 – Theatron Pfingst Open Air, MÜNCHEN (GERMANY)
24.05.15 – Koll an Aktioun Festival (LUXEMBOURG)
26.05.15 – La Péniche, LILLE (FRANCE)
27.05.15 – Point Ephémère, PARIS (FRANCE)
09.06.15 – The Lexington, LONDON (UNITED KINGDOM)
02.07.15 – Blissfields Festival, Winchester (UNITED KINGDOM)
30.07.15 – Arenal Sound 2015, BORRIANA (SPAIN)
02.08.15 – Standon Calling, Standon (UNITED KINGDOM)